New Patient Center
Welcome to Just Right Chiropractic & Wellness!
Your First Visit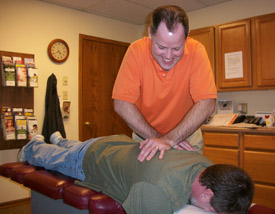 We understand you are busy so we make your visit to our office a pleasant but quick experience. You can download all the new patient paperwork that you need for your first visit right from this website. Or our staff would be glad to mail you the paperwork. Allow yourself about 20 minutes to complete it. You are also welcome to come in ahead of time before your scheduled office visit to complete the paperwork here. We do our best to have you in and out in 45 minutes.
Getting To Know Each Other
Sometimes, patients are nervous on their first visit to a new doctor but really, it is just a time for us to get to know each other and do some simple, non-invasive tests to find out what it going on with you. Our front desk staff can answer any questions you have ahead of time and will be glad to verify insurance benefits if needed. Be sure to bring in your insurance card and a form of I.D. on your first visit. If X-rays are needed, we send you to the Imaging Center right down the road and they will get you right in.
Your Second Visit
On your second visit, I will explain to you what this chiropractic stuff is all about. In addition, I'll share your test results with you, answer any questions you may have and we will do your first adjustment and any therapy, if needed.
Most folks are done in less than 1/2 hour.
Regular Visits
After the investment of time needed on the first and second visits, many patients become concerned that every visit will be of equal length.
In a word: no. A typical visit may require just a few, highly-focused, minutes. But don't think the brevity of a regular visit lessens its value! With the groundwork laid, we can quickly size up what your spine and nervous system, adjust you and get you on your way. Like a regular workout at the gym, each visit builds on the ones before. Miss a visit and we can lose the momentum necessary to make the needed changes.
We recognize your time is valuable. We do everything possible to run on time and minimize the impact on your busy life.
Contact us today to get started!
---
New Patient Center | (260) 436-5200